Don't let high flight costs stop you from flying to your favorite holiday destination across Europe. Wizz Air is a budget airline based in Budapest, Hungary offering low-cost air travel services throughout Europe and to other destinations like North Africa. Here are details on how to use the Wizz air baggage policy to lower the cost of your flight.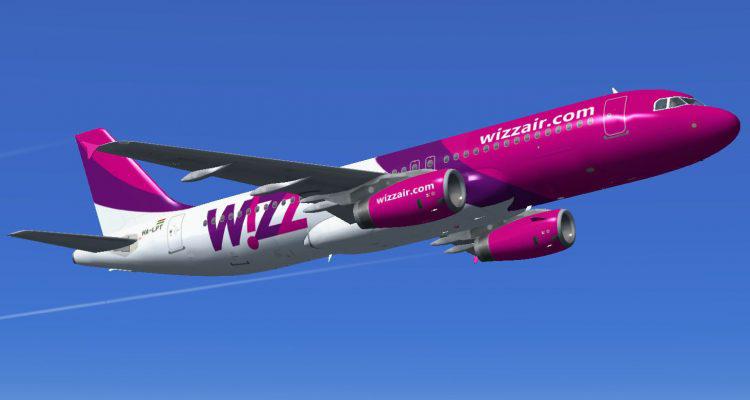 Understanding The Wizz Air Baggage Policy
With Wizz Air Hungary, you can bring your entire luggage on board, thanks to their friendly luggage transit policy. Wizz Air baggage policy permits you to carry hand luggage and check-in cargo. While the airline provides free transport for your carry-on luggage, you are required to pay for the check-in baggage. Here are full details.
1. Baggage Allowance
When flying with Wizz Air, you are permitted to bring onboard one small carry-on bag. Secondly, the airline allows you to check-in up to six pieces of cargo luggage. You can also take advantage of Wizz Air's Wizz Priority Service which allows you to bring an extra trolley bag into the plane's cabin at no extra cost. To purchase baggage allowance, you can visit online flight summary page during or after booking your flight. Alternatively, you can do this via the airline's online check-in process up to three hours before takeoff or pay at the airport upon arrival. Though, the charges are bound to be a notch higher than the online approach.
2. Checked-in Baggage
As for hold cargo, Wizz Air luggage policy stipulates that each piece of your checked-in baggage must be restricted to a maximum of 171 cm (length) by 149 cm (width) by 119 cm (height). In this regard, the airline provides three distinct types of check-in bags with 10kg, 20kg, and 32kg weight tags.
Though you're allowed to check-in up to 6 pieces of hold cargo, you can only purchase a maximum of one 10kg bag, two 20kg bags, or three 32kg check-in bags receipts online and the others at the airport. Wizz Air also provides free check-in for a single foldable baby stroller or pushchair for each small child you bring onboard.
3. Carry-on Luggage
With Wizz Air hand luggage weight set at a maximum of 10kg, you are only allowed to bring a small bag into the plane's cabin. The bag must stay within the 40 x 30 x 20 cm size dimensions and should be placed under the seat in your front.
Regarding liquid carry-on luggage, Wizz Air requires you to carry all the liquids in maximum 100ml-sized containers. Also the containers must be packed in a clear, resealable, 1-liter plastic bag measuring 20 cm x 20 cm x 20 cm that's screened at the airport before you climb the ramp into the cabin. You may also bring the following items on board at no extra cost:
Mobile phone

A blanket or coat

A pair of crutches in the case of physically challenged passengers

Sufficient baby food for the flight for infants under 2 years

Reading material to mull over through the flight

A small crib or foldable baby stroller for babies younger than two years
Additionally, you may purchase the airline's Wizz Priority service or access it using your Wizz Privilege Pass, Wizz Plus Bundles, or Wizz Go. With this service, you are entitled to carry an extra trolley bag measuring a maximum of 55 cm x 40 cm x 23 cm and weighing 10 kg at most into the cabin at no extra charge. You may also bring both the carry-on and trolley bags into the cabin as long as operational restrictions permit it.
4. Excess Baggage
Wizz Air allows you to travel with plenty of luggage as hold cargo provided you can cover its transit cost. You may check-in up to 6 hold luggage items per flight but baggage fees will apply to each piece. Still, you may only check in the first three items online or via the airline's call center. But, you have to pay for any surplus check-in baggage at the airport.
Admittedly, you'll pay higher baggage fees for all additional hold cargo you purchase at the airport so it's important to weigh your bags beforehand. If your check-in bag weighs between 20 and 32kg, Wizz Air baggage policy requires you to part with a €10.00/kg surcharge at the airport. Besides, certain airports require you to clear the relevant baggage fees via debit or credit card. These airports include:
Brno (BRQ)

Donetsk (DOK)

Kharkiv (HRK)

Kristiansand (KRS)

Pisa (PSA)

Milan Malpensa (MXP)

Stavanger (SVG)

Oslo Sand fjord Torp (TRF)

Grenoble (GNB)

Kyiv Zhulyany (IEV)

Haugesund (HAU)

Paris Beauvais (BVA)

Cologne (CGN)

Dortmund (DTM)

Malmo (MMX)

Trondheim (TRD)

Moscow (VKO)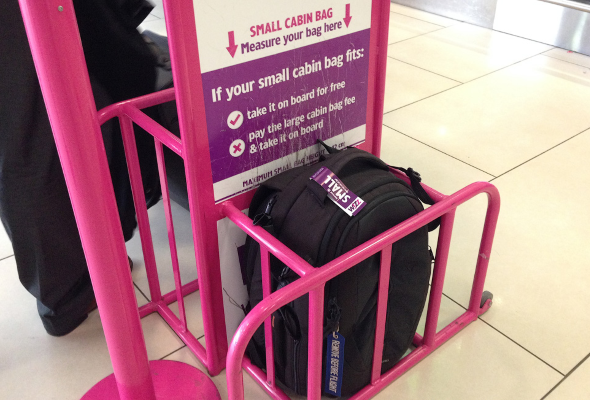 5. Diplomatic Baggage
Wizz Air provides convenient diplomatic sealed-lock air baggage transit in their flights. The airline requires you to declare such luggage as diplomatic and provide an accompanying courier for the entire flight. Such cargo is transported as non-checked-in luggage regardless of its characteristics, size, and the requisite luggage handling guidelines.
Nonetheless, in case you diplomatic cargo's nature and size don't favor transport in the cabin, it can be carried in the plane's luggage hold but it's considered unchecked baggage. Since Wizz Air can't be held responsible for unchecked hold cargo, your diplomatic luggage courier should be present to witness the cargo's entire loading and unloading process.
6. Baggage Upgrade
If you need extra storage for your luggage, Wizz Air allows you to upgrade your hand luggage to check-in cargo. To achieve this, simply purchase a convenient check-in bag online during your flight booking, add the check-in bag to your flight summary page at least 3 hours before departure, or pay for it at the airport.
7. Lithium Batteries
With Wizz Air, all spare lithium or lithium-ion batteries and cells of consumer electronics should be carried as hand luggage. They must also be separately shielded from short circuits by placing them in individual protective pouches, original retail packaging cases, or plastic bags and their exposed terminals must be insulated.
Besides, every installed or spare battery you bring on board must contain 2 or fewer grams of lithium metal or alloy for lithium batteries or have a 100 Wh or less rating for lithium-ion cells. Still, you can carry no more than 2 spare or installed lithium-ion batteries with ratings of 100-160Wh per person upon approval by Wizz Air.
The airline also allows you to carry portable electronic devices powered by lithium or lithium-ion batteries and fuel cells as long as:
The lithium metal or alloy batteries contain 2 grams or less of lithium.

Lithium-ion batteries have a watt-hour rating of 100Wh or below.

You must switch off completely, shelter from inadvertent activation, or detach the batteries and insulate exposed terminals.

You don't recharge the devices or their batteries onboard the aircraft.
Takeaway
Wizz Air is a preferential budget airline for holiday goers and multi-city business visitors across Europe. Besides the airline's vast destinations outreach, Wizz Air baggage policy enables air travelers to bring onboard a sizeable amount of luggage without offsetting their flight costs. This is one budget airline you should look up when planning to take your next vacation or business flight in Europe and a few far-flung destinations like North Africa.